Visitors can get a taste of Oriental's small but thriving art scene with a visit to The Old Theater, a stark white and impressively large two-story building located on the corner of Broad and Church Streets. Showcasing a number of performances, films, and workshops throughout the year, and geared towards art lovers and theater-goers of all ages, a trip to the Old Theater can easily please every taste, and can serve as a fun and exciting way to dive right into the Oriental art scene.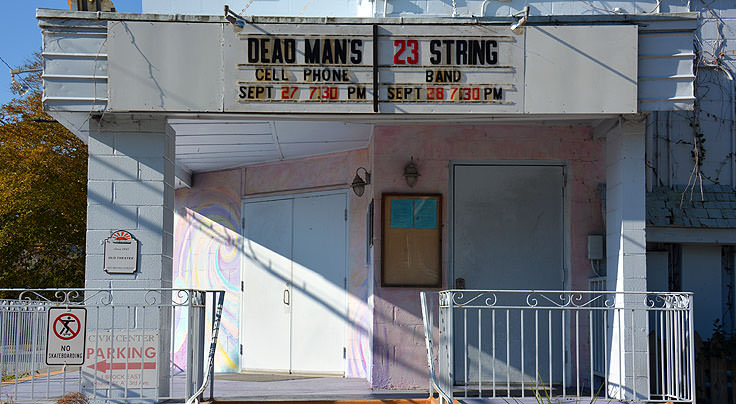 The theater was originally called the "Mart Theater" and was built in 1945 by neighboring Swansboro, NC resident, George Merritt Jr. It was sold to an Oriental local, Will Smith, and was soon thereafter expanded to enlarge the balcony, modernize the projection room, and also provide indoor bathrooms to theater patrons.
The theater was only open for 10 years or so, closing in the mid-1950s, but during its reign the theater enjoyed patronage from hundreds of residences from all over Eastern North Carolina, eager to catch the latest flick to hit the big screen for just $.10 cents per person.
When the theater closed, however, the building remained vacant for three decades until 1987, when a local theater group, the Pelican Players, began using the venue for rehearsals and storage. Though it was condemned and therefore unfit for public use, local residents began to take notice of the performance space, and began planning out the initial steps of bringing the theater back to life, and to its former glory as a popular Eastern North Carolina attraction. The early 1990s were a period of transformation, and extensive renovations were made by the newly formed and local nonprofit organization, the Old Theater Corporation. The "Old Theater" officially opened its doors to the public on March 15th, 1995, and has remained a movie house, workshop space for theater lovers of all ages, and performance venue ever since.
The theater itself is an ideal location for well-staged productions, as with just 156 seats, all play or concert goers are always within just 40' feet of the stage. Performances include regular stagings by the Pelican Players and the slightly newer but locally acclaimed Oriental Repertory Company, regionally and nationally-recognized musicians and bands courtesy of the Pamlico Musical Society, and special community events and performances, like a local dance contest or seasonal children's plays. There are even seasonal workshops available for children, allowing the youngest local and visiting artists to try their hand at acting, puppetry, set design, and any number of fun programs dedicated to the Theater World.
In addition, every Friday night the Old Theater features special "Friday Flicks" which begin promptly at 7:30 p.m. The $5.00 movie ticket includes free popcorn, and patrons can settle into the historic seats and catch a beloved classic on the big screen. Best of all, all proceeds from the weekly shows benefit the ongoing renovations, maintenance, and utilities of The Old Theater.
The theater can also be rented for large groups and clubs, with special discounts given to non-profit organizations. Volunteers are also welcome in all realms of the theater world, from acting and production to manning the authentic ticket window, and frequent theater goers can also sign up to become a member of the Old Theater, and help support both the building itself and the year-round performances by community members and visiting artists and musicians. (And of course, members also receive special discounts throughout the year.)
What was once a short-lived but popular local business has thrived after 30 years of neglect, and has once again become one of the most popular "night spots" in downtown Oriental. Filled with history, and maintaining its opulent but intimate setting, the Old Town Theater is a must-stop for any visitor who wants to enjoy a live concert, a seasonal performance, or just a good old fashioned night at the movies. With regular weekly movie show times and new events announced on a regular basis, the Old Town Theater is an Oriental attraction that frequent visitors will surely return to again and again.