The Belhaven Memorial Museum clearly holds the title as one of the most distinctive and unique museums in Eastern North Carolina, with a collection that includes historical artifacts, scientific oddities, and everything in between.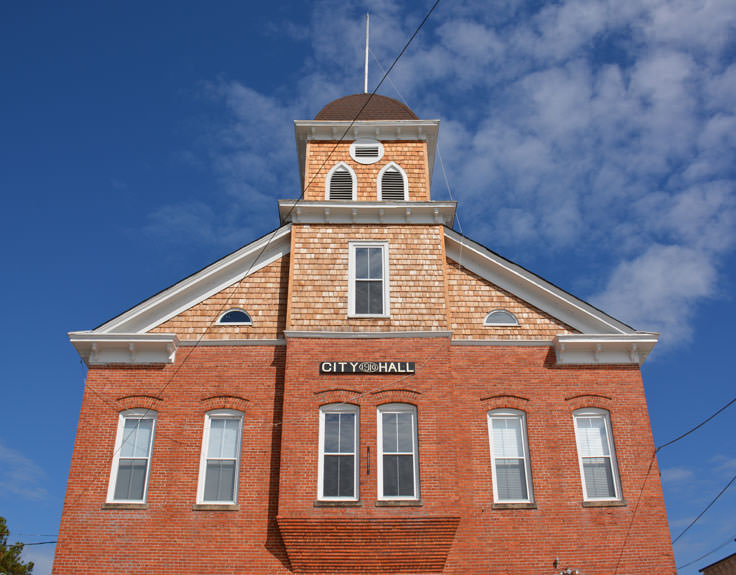 The museums itself is easy to find, with a location in the heart of town at the original historic Belhaven Town Hall. The tall brick structure with a stone tower and arched doorways is a treasure all its own, and is listed on the National Register of Historic Places, but it's the extensive collection of items found on the second floor of the historic building that truly turns heads.
The museum's existence is solely due to local Belhaven resident, Mary Eva Blount Way, (1869-1962), or "Miss Eva" as she was affectionately known by the local residents. Miss Eva was an avid collector, starting with a gift of antique buttons that was given to her by her mother-in-law, (a collection that would eventually grow to over 30,000 buttons, which are all showcased within the museum.) After this initial gift, Miss Eva began collecting treasures of all varieties, including Christmas memorabilia, period clothing, toys and dolls, china, farm tools and interesting natural specimens from her home town.
As her reputation for passionate collecting grew, donations poured in from friends and neighbors alike who wanted to help build her personal collection. In 1940, during the height of World War II, Miss Eva decided to raise funds for the Red Cross by displaying her treasures in her own home for a small fee. The homegrown museum was a hit, and the "museum" was extended to the family barn in order to showcase the more than 10,000 items that Miss Eva had collected.
After her death in 1962, concerned Belhaven residents lobbied to purchase the collection and find a new home for Miss Eva's treasures, which they quickly did, at the original but no-longer-used Town Hall in the heart of town. On April 1, 1965, the Belhaven Memorial Museum officially opened on the second floor of the town hall, and treasures and donations have trickled in ever since.
Today, visitors to the Belhaven Memorial Museum will be greeted with an incredible collection that showcases both Miss Eva's favorite treasures, as well as typical everyday objects that were a staple of nineteenth century life.
Collection highlights include antique dolls, Civil War and World War artifacts, early currency, antique furniture, ancient farm tools, period fashions, and even an antique x-ray machine from a local Belhaven dentist's office.
While these displays would be enough to peek any history buff's curiosity, the museum is also home to a number of "oddities" that Miss Eva herself acquired over the years. Unusual exhibits of interest include a German World War I half-boot, (most likely complete with an amputated foot), a dress worn by a local 700 pound woman, a one-eyed fetal pig, a two-headed kitten,and several snakes killed by Miss Eva and stuffed. Granted, several of the exhibits, especially those found within the confines of the large glass jars, are not for the squeamish, but every visitor will get a kick of the outstanding collection of historical artifacts that chronicle, in great detail, a lifelong love of collecting.
The museum is located on East Main Street, (or Business 264), on the second floor of the historic Belhaven Town Hall. The museum is open daily from 1:00 p.m. until 5:00 p.m., every day except Wednesdays. Admission is free to all visitors, however donations are greatly appreciated, and the museum sells local books and cookbooks that would surely be approved by Miss Eva herself.
The Belhaven Memorial Museum is easily one of the more unique aspects of Belhaven, and is essentially a labor of love that began with the passion of one resident, and grew into a town-wide initiative to preserve her lifelong collection of all things unique. Eclectic, unusual, and altogether fascinating, the museum remains one of Eastern North Carolina and Belhaven's most interesting and undiscovered local treasures.